EC Healthcare Opened the First Organic Flagship Veterinary Hospital in Hong Kong
HONG KONG, Mar 6, 2023 – (ACN Newswire via SEAPRWire.com) – EC Healthcare (the "Company", which together with its subsidiaries is referred to as the "Group", SEHK stock code: 2138), the largest non-hospital medical group in Hong Kong*, is pleased to announce that the Group opened its first organic flagship veterinary hospital, Animal Medical Academy Hospital (AMAH).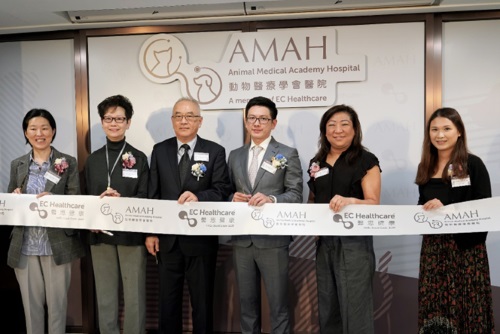 From left to right: Dr. Guo Shanshan, Co-Principal of AMAH, Ms Sisy Lao, Director of AMAH, Dr. Phillip Mak, Co-Principal of AMAH, Mr. Levin Lee, Executive Director and Chief Financial Officer of EC Healthcare, Dr. Julie Chow, Chief Proposition Officer (Healthcare) of EC Healthcare, Dr. Tiffany Ho, Department Head of Primary Care of AMAH
Animal Medical Academy Hospital (AMAH) is located in Harbour Crystal Center in Tsim Sha Tsui East, with two floors and a total gross floor area of more than 26,000 sq ft. The hospital is equipped with an internal elevator to connect the ground floor and basement, with separate waiting areas for dogs and cats. The hospital provides veterinary general practitioner services and precious specialty services covering anesthesia & analgesia, neurology and cardiology services. The hospital also provides advanced imaging services equipped with MRI, CT and Cardiac Ultrasound, bundling with an oxygen generating system. The hospital has 10 consultation rooms, 8 pre-surgical induction & recovery monitoring rooms, 14 chemotherapy wards, 18 Intensive Care Units (ICU), 59 wards and internal. The service scope and professional standard all achieved industry-leading level.
Mr. Levin Lee, Executive Director and CFO of EC Healthcare said, "Since entering the veterinary business in 2021, EC Healthcare has been actively consolidating the market, and establish a leading brand. Through corporatization, the Group was able to empower the traditional veterinary business, improving its operational efficiency and boosting its growth. The Group is very honored to partner with Dr. Phillip Mak, a leading expert in the veterinary industry, to jointly establish this hospital. Looking ahead, we look forward to collaborating with more veterinary talents to continuously expand the service scope, paving way for AMAH to become the leading flagship veterinary hospital in Hong Kong. The Group will continue to invest in expanding its veterinary business in Hong Kong, building a renowned brand, and shaping the veterinary business to become a new growth engine for the Group."
About EC Healthcare
EC Healthcare is Hong Kong's largest non-hospital medical service provider*, leveraging its core businesses of preventive and precision medicine, and committed to developing medical artificial intelligence by integrating its multi-disciplinary medical services. The move, which is supported by the Group's high-end branding and quality customer services, is aimed at offering customers safe and effective healthcare and medical services with professionalism. The Group is a constituent stock of the Hang Seng Composite Index and the MSCI Hong Kong Small Cap Index.
The Group principally engages in the provision of one-stop medical and health care services in Greater China. The Group provides a full range of services and products under its well-known brands, including those of its one-stop aesthetic medical solutions provider DR REBORN which has ranked first in Hong Kong by sales for years, a professional hair care center HAIR FOREST, primary care clinics jointly established with health management centre re:HEALTH, a vaccine centre Hong Kong Professional Vaccine HKPV, General outpatient clinic Tencent Doctorwork, the largest one-stop pain management centre in Hong Kong New York Medical Group, the comprehensive dental centres Bayley & Jackson Dental Surgeons, EC DENTAL CARE and Health and Care Dental Clinic, an advanced diagnostic and imaging centre HKAI, an oncology treatment centre reVIVE, a day procedure centre HKMED, a specialty clinic PREMIER MEDICAL CENTRE, SPECIALISTS CENTRAL and NEW MEDICAL CENTER, a paediatric centre PRIME CARE, a gynaecology specialist ZENITH MEDICAL CENTER AND PRENATAL DIAGNOSIS CENTRE, PathLab Medical Laboratories, Ophthalmology Center EC Eye and EC Veterinary Hospital and Imaging Center.
*According to independent research conducted by Frost and Sullivan in terms of revenue in 2020 and 2021
Copyright 2023 ACN Newswire. All rights reserved. (via SEAPRWire)